Check out our latest @zooeymagazine #cover ft. Miss @juleshough of #rockofages! #summer #beauty #magazine #celebs (Taken with instagram)
Check out my latest cover for Carbon Copy magazine featuring top model Ryan Thomas shot by one super talented photographer, Diana King.  It's even featured on Design Scene, one of my most favorite sites on fashion and design.
I love dressing men, especially when they look THIS good.
Stay tuned for the full editorial!
I truly think so.  I've seen so many gowns and dresses inspired by the Vietnamese national costume lately that I will have a blog to follow.
I found out via @designscene that this shoot was art directed by John Paul Tran; so it makes much sense now that this dress fit into the story.  =]
via @lyndzitrang. ao dai inspired???
If you LOVE our September cover girl for Zooey Magazine, Jennifer Love Hewitt, you're going to LOVE her even more when you watch her behind the scenes video of our shoot.
Who's isn't a big Glee fan?  A week ago, I posted the fun behind the scenes video of Glee's Jenna Ushkowitz's fall issue of Audrey Magazine.  Here's the absolutely beautiful cover of Jenna, wearing a beautiful silk chiffon dress by Thai Nguyen and a "J" pendant necklace by the Gypsy Collection.  You can pick up your copy today!!!!!!! 
Many, many, many thanks to the Audrey team, photographer Diana King, hair Gaelle Secretin, makeup Allie Lapidus, and my fabulous stylist assistant Jacqueline Nguyen
Jennifer Love Hewitt is our new cover girl for the Fall/September issue of Zooey Magazine.  Shot at Smashbox Studios, I dressed JLH in a Young by Yoyo Yeung LBD dress for the cover.
I was incredibly nervous working with her since she was one of my favorite teen idols growing up.  Her flawless smile lit up the studio and brought me back to the days watching Party of Five and I Know What You Did Last Summer.  After the 3rd look as I was fixing her sweater for the perfect shot, she smirked and said, "You're doing a great job."  That made my day! I will never forget that she said those words to me; it means so much!
Rocking out to a mixed tape CD that she had made, JLH rocked out to Selena Gomez and Muse.  She was very appreciative to everyone that was there to make the shoot possible; a rarity that I've seen lately working with the "Hollywood" industry.  
Stay tuned for more photos from the shoot!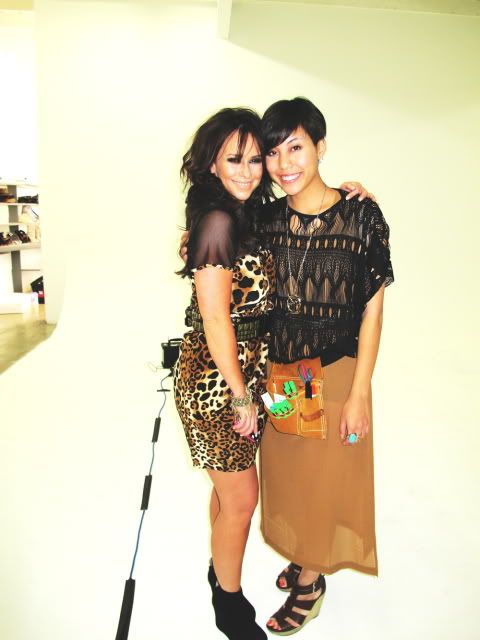 Photographer: Christopher Logan | Stylist Assistants: Jacqueline Nguyen & Julianne Hoang
The July/August issue of VietBeauty magazine is here!  I had the opportunity to reconnect with the Vietnamese community to style their latest "Get Wet" cover editorial.  It was really cool and a great learning experience to see the production crew build a "wading" set in the studio; something I've never been on before.  Yes the models were wet, but the clothes (thank God) made it out without harm.
Much thanks to Viktor, Huy Khiem, Nhat Binh, and all the models.  Most importantly, a deep gratitude to my sidekick, Jacqueline Nguyen.  
Sophia Bush's cover issue for Zooey Magazine is out now!  They put them on the shelves yesterday so grab your copy before it's too late.  She was such a fresh breathe of air to work with, her beauty was astronomical, and I admire her so much because she truly campaigns and puts keeps her foot into what she believes in.
Dress: Leyendecker
Stylist: Yours Truly
Stylist Assistant: Jacqueline Nguyen
Photographer: Dove Shore
Here are all the cover editorial images in the latest Zooey Magazine featuring our girl, Ashley Tisdale.  She wore all sustainable and eco-friendly pieces. =]
Yay for more covers.  Here's Sucker Punch / Hangover 2 actress Jamie Chung on this month's cover of KoreAm magazine.
Finally, the preview of our next cover girl hits stands in a couple of weeks. Hellcats' star Ashley Tisdale graces the cover of Zooey Magazine's Sustainable issue and wears 100% eco-friendly or eco-conscious clothing.  I've been holding out for 3 months since we shot this back in January and am so excited to finally see it out!!!  We had to shoot it early because Ashley had to head back to Vancouver to finish filming a season of Hellcats.
Her lovely purple tank dress is by ecoSkin and jewelry by Verde Rocks. Verde is a Spanish word meaning "green."  Take a sneak peek of the behind-the-scenes video to see what she wears inside her cover editorial!
Photographer: Derek Wood
Hair: Noogie Thai
Makeup: Sharon Tabb
Video: Amanda Elkins
Stylist: Yours Truly | Assistant Stylist: Jacqueline Nguyen
Behind the Scenes - Actress Jamie Chung for KoreAm Magazine
Here's a sneak peek of actress Jamie Chung's cover editorial shoot for KoreAm's April issue, a Korean American magazine.  She will be in the upcoming movies Sucker Punch and Hangover 2 in the next month(s).  Not only is she stunningly beautiful, this REAL girl is as beautiful and as sweet as ever.  We shot at the luxe Watermarke building in downtown Los Angeles!  The views of this place are incredible!  Makes me want to work extra harder to live an emmaculate dream such as this place.  
Here's a look at one of the outfits I put her in. Loving the fuschia on her golden skin tone!  Dress is by Maison, an Australian based women's clothing company and shoes by Report Signature.  Thank you to my side-kick, Style-Enthusiast for assisting me always!  Many thanks to the KoreAm staff and crew for making this possible.
Here's a behind the scenes video of CW's Hellcats, Aly Michalka for her Zooey Magazine cover shoot.  She's soooo freakin' adorable and I'm thankful and uber-excited that she talks about the fabulous wardrobe & styling in the video. =] It's always so great to hear compliments on your work (especially coming from Aly!!!!)… it definitely pushes me to work even harder.  Thank you everyone for your comments and feedback on the looks / issue so far.  It's probably my most favorite yet!
Video by: Amanda Elkins | Styling: Yours Truly | Stylist Assistant: Jacqueline Nguyen
I had the absolute pleasure of photographing actress and singer Aly Michalka for Zooey Magazine last month. She was so fun to work with and really made my job easier by being quite open to just letting myself and my team create beautiful imagery around her. She has such a great energy about her and we ended up with some gorgeous photographs at the end of the day.

You can watch Aly every week on the CW show Hellcats, and in the upcoming thriller "The Roommate". She also sings and writes music with her sister AJ as 78violet

Many thanks to Lyndzi Trang who continues to outdo herself - she pulled some amazing pieces for this shoot. I also need to thank my good friends Tiffany, Josh, and Phen Mas for the use of their space, STUDIO 22. 

This is just a sneak peak at the cover, and I will be posting images from the entire shoot once the magazine hits the stands.
And the preview is out! Check out CW's Hellcats starlet, Aly Michalka on the cover of the February/March issue donned the New Generation issue!!!  She has a genuine heart and soul of gold… and I was absolutely floored by her beauty - inside and out. This girl works her butt off for Hellcats and it showcases in her super toned body!  I wanted to showcase what a beautiful woman she's become since her Disney days by putting her in romantic, feminine, yet strong silhouettes.
Aly wears an Oliver Tolentino corset and Alana Hale lace shorts with jewelry by LeftTurn, BoyNYC, Gintare, Gypsy and Kevia.
Many thanks to: Sean Armenta (photographer), Amy Strozzi (makeup), Brant Mayfield (hair), Amanda Elkins (photography director), and Studio 22.
Creative Director: Lyndzi Trang | Assistant Stylist: Jacqueline Nguyen