Bangs or no #bangs??? // #tbt // #modeldays #wig @jeannesandiego // #fashion #editorial #magazine #love #potd #wiw #ootn #red
Check out our latest @zooeymagazine #cover ft. Miss @juleshough of #rockofages! #summer #beauty #magazine #celebs (Taken with instagram)
Shot this #inspirational #woman today for #FirstforWoman #magazine. Can you #believe she lost 140lbs?! She made the #yummy #vegan #cupcakes too. Note: she is wearing a #RalphLauren #coral #dress. :) (Taken with instagram)
Bon International S/S 2012
Vintage Expo - Santa Monica, CA
It was my first time attending the Vintage Expo held at Santa Monica Civic Center.  It was mind boggling!  There were at least 50 vendors carrying amazing vintage pieces from thrifted to Chanel, Escada, YSL, and more.  Of course my eyes went straight to the vintage Chanel jewelry neatly displayed in a glass case.  The items are all real with proven documentation and certificates.  Aren't the earrings just beautiful?  Still a dream of mine to own a piece of Coco one day… I keep telling myself when I turn 30 that I will void that age "defying" number with a Chanel piece.  I feel that if I buy a Chanel piece now; I wouldn't give it the proper care it deserves… ha!
I love all the intricate knick-knacks including this metal purse and nail clippers!
Vintage magazines including Vogue and Vanity Fair! So freakin' cool!
I bought a few pieces myself and can't wait to share it with you all!
Check out my latest cover for Carbon Copy magazine featuring top model Ryan Thomas shot by one super talented photographer, Diana King.  It's even featured on Design Scene, one of my most favorite sites on fashion and design.
I love dressing men, especially when they look THIS good.
Stay tuned for the full editorial!
"Lost in Paris" - WeTheUrban Magazine #4

Model: Rose Jocham

Photographer: Alexander Jordan

Styling: Emily Hawkins 

Hair/MUA: Alexis Day

Website: http://www.wetheurban.com/magazine

- trousers/shoes/top by Maison Martin Margiela 
I truly think so.  I've seen so many gowns and dresses inspired by the Vietnamese national costume lately that I will have a blog to follow.
I found out via @designscene that this shoot was art directed by John Paul Tran; so it makes much sense now that this dress fit into the story.  =]
via @lyndzitrang. ao dai inspired???
Z!nk Magazine's Fall/Beauty Issue
I was so excited to be a part of this "Interspace" galactic beauty shoot for Z!nk Magazine out on stands now!  The photographer, Brandon Showers, and I headed to Warner Studios to pull the space suit & helmut for this shoot.  After 45 minutes of digging through the large warehouse of Warner's film/movie/TV archives, we found the amazing metallic orange suit and helmet for the shoot.
Jewelry showen were a collection of MCL by Michael Campbell Laurenza, Misaki, The Passionate Collector, and Rodrigo Otazu pulled from local LA showrooms.
Makeup:  Levi Vieira & Melina Ruiz
Styling:  Lyndzi Trang - Yours Truly
Hair: Sienree Du (Celestine)
Model:  Saskia (LA Models)
Lighting Rental:  Siren Studios
Behind the Scenes - Wassakh Magazine
Shelly, our makeup artist doing her werkkkkk.
Shoe fittings…
Gaelle (hair) striking a pose at the cool backdrop.
And afterwards me and photographer Diana King treated ourselves to all the yummy tart flavors at Yogurtland and tried on some interesting sunglasses at the Popkiller store in Little Tokyo.
Screwdriver fixture.  Kinda cool… I smell DIY in the air…  Anyhow, look out for our 90s inspired grunge editorial out next month!
Inspiration: Bohemian Autumn | Marie Claire Italia | September 2011
Can I just have all these amazing pieces for Fall?  It's the perfect Bohemian Autumn ensembles for LA. I want.
via Fashion Gone Rogue.
Who's isn't a big Glee fan?  A week ago, I posted the fun behind the scenes video of Glee's Jenna Ushkowitz's fall issue of Audrey Magazine.  Here's the absolutely beautiful cover of Jenna, wearing a beautiful silk chiffon dress by Thai Nguyen and a "J" pendant necklace by the Gypsy Collection.  You can pick up your copy today!!!!!!! 
Many, many, many thanks to the Audrey team, photographer Diana King, hair Gaelle Secretin, makeup Allie Lapidus, and my fabulous stylist assistant Jacqueline Nguyen
Jennifer Love Hewitt is our new cover girl for the Fall/September issue of Zooey Magazine.  Shot at Smashbox Studios, I dressed JLH in a Young by Yoyo Yeung LBD dress for the cover.
I was incredibly nervous working with her since she was one of my favorite teen idols growing up.  Her flawless smile lit up the studio and brought me back to the days watching Party of Five and I Know What You Did Last Summer.  After the 3rd look as I was fixing her sweater for the perfect shot, she smirked and said, "You're doing a great job."  That made my day! I will never forget that she said those words to me; it means so much!
Rocking out to a mixed tape CD that she had made, JLH rocked out to Selena Gomez and Muse.  She was very appreciative to everyone that was there to make the shoot possible; a rarity that I've seen lately working with the "Hollywood" industry.  
Stay tuned for more photos from the shoot!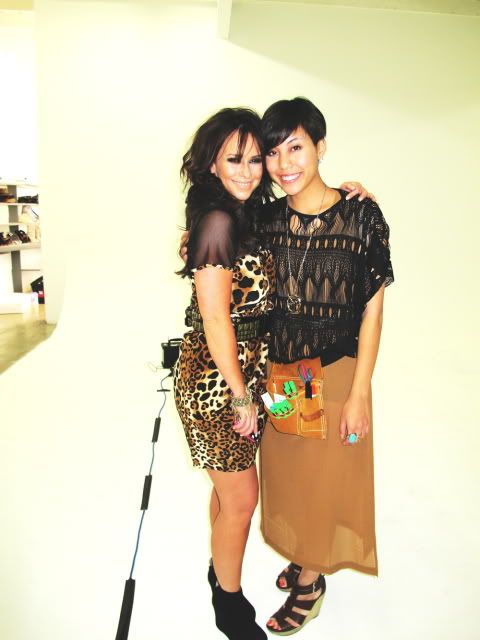 Photographer: Christopher Logan | Stylist Assistants: Jacqueline Nguyen & Julianne Hoang
Inspiration: Elle Vietnam / August 2011 - Oh How You Slay Me?